WE ARE A REGISTERED CO-OPERATIVE committed to co-operative principles including self-sufficiency, independence and co-operation. Subscriptions enable the site to be maintained and developed, for editorial services to be paid for and for writers to be rewarded for their efforts. It is therefore self-sustaining. When a person has contributed a certain number of resources, they have the option to apply for co-operative membership, to share in the management of p4c.com. Individuals and organisations can become members.
Steve Williams (Editor, P4C.COM)
Steve Williams taught English and Media Studies for 14 years in secondary schools and served for five years as head of an English department. He helped to found SAPERE, the Philosophy for Children network in the UK, and was the first person in Britain to introduce P4C as a curriculum subject in a secondary school. Over the years, he has worked with children of all ages in a wide variety of schools. He has helped many teachers to start Philosophy for Children through the courses and support he provides.
He is also very interested in Readers' Theatre, writing for learning, and online education. He has been involved with national and international projects in these fields. He worked for five years as the senior editor for an educational publishing company, editing books and magazines including Teaching Thinking and Creativity, a well-respected publication with a world-wide reputation. He recently managed the training involved in a successful research project into the effects of philosophy for children for SAPERE and the Educational Endowment Foundation.
---
Roger Sutcliffe & DialogueWorks
Website: https://dialogueworks.co.uk
Courses: https://dialogueworks.co.uk/training
Roger is one of the world's leading authorities on P4C and philosophical education. He was a founder and President of SAPERE, the UK charity promoting P4C, and President of ICPIC, the International Council for Philosophical Inquiry with Children. He graduated in Philosophy and Modern Languages at Oxford, and has taught at primary and secondary level.  He trained in P4C under Professor Lipman.  Roger is an outstanding facilitator of dialogue, with both large audiences and small groups. He is currently the president of DialogueWorks.
DialogueWorks provides training, support and resources in teaching that brings more thinking into learning. Its two main programmes are P4C Plus and Thinking Moves. They offer online or in-person training anywhere in the world, through programmes tailored to meet local needs and the priorities of individual schools. DialogueWorks also  provides resources on its website for teachers, students, parents and trainers, covering all ages and curriculum areas.
---
Jason Buckley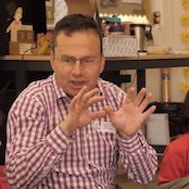 Jason's website: https://www.thephilosophyman.com
Jason's courses: https://www.thephilosophyman.com/p4c-training
Audio Interview with Jason about his approach
I used to be a secondary school English teacher, and that's how I reconnected with P4C in 2008 after an initial taste of it on a course run by Roger Sutcliffe way back in 1995. The approach I have developed has diverged from the traditional 10-steps model to focus on three principles which I expand on in Philosophy Circles:
Get Moving – Engaging children rapidly through talk activities that often involve standing up and snowballing groups from pairs through to larger groups to build confidence, or making the thinking physical by moving yourself or some stuff, and community builders that address specific skills needed for philosophical dialogue through games.
Y-Questions – Contestable questions, often presented as a binary that is open to subversion, and usually provided initially by the facilitator to get sessions started efficiently. I think there is merit in then listening out for questions that emerge organically from the discussion, rather than emphasizing the generation of questions as an early, formal stage in the proceedings.
Take a Back Seat – Changing the role of the teacher to that of facilitator by "going into orbit", taking oneself out of the circle, by avoiding having too much of a script of how things should go, and by focussing on coaching questions that avoid the imposition of the facilitator's own thinking.
I train teachers in the UK and internationally, most often through a combination of observing workshops with pupils, participating in sessions, with the theory coming in on the back of that practical experience. I also run weekly sessions of philosophy on Zoom with homeschoolers from 6-18 years old, and with adults, through my other organisations www.p4he.org and www.giftcourses.co.uk The latter is an organisation that supports children who are "beyond their years" in their learning, which in normal times has a summer school and other residentials.
I'm also the founder of www.outspark.co.uk, an outdoor education company which, as well as the usual DofE and multi-activity trips, also provides instructors-in-residence for Thinking Adventures that combine outdoor skills with philosophical enquiry, supporting the wider curriculum in primary schools.
I am a keen theatrical improviser, and I find that skills such as good listening and a willingness to pursue ideas without preconceptions are common to improv and to philosophy. I live on a narrowboat in Cambridge and enjoy caving and hillwalking.
---
Grace Lockrobin
Grace's website: https://www.thinkingspace.org.uk
Grace's courses: https://www.thinkingspace.org.uk/courses
Grace is a philosopher working in the community and in academia. Over the last 15 years –  through her many projects in the places people live, learn, work and play – she has enjoyed philosophical conversations with thousands of thinkers of all ages, backgrounds and levels of experience.
In the community, she is the Founder and Managing Director of Thinking Space, a non-profit that creates opportunities for people to philosophise together. Grace is also a specialist and trainer at The Philosophy Foundation, an accredited trainer with SAPERE and Dialogue Works, and a board member of the European network, SOPHIA.
In academia, she is a Teaching Fellow at the University of Leeds where she runs 'Philosophy Exchange', a project that brings together philosophy students, teachers and children in weekly philosophical enquiry. She also consults with other UK universities, helping to set up similar outreach programmes. Grace is currently finishing a PhD in Philosophy of Education at University College London (UCL) Institute of Education where she was awarded a competitive Economic and Social Research Council (ESRC) scholarship. Through her workshops, training, talks and writing, she has shared her thinking and practice locally, nationally and internationally.
Grace lives in Sheffield with her two young sons, Otto and Ebbe, and her husband, Joe.
---
James Nottingham
James Nottingham began his professional life as a teaching assistant and sports coach at a 3-18 residential school for deaf children. He then trained as a teacher, studying P4C as part of his university degree before working in primary, middle and secondary schools across the UK. Soon after appearing in a televised documentary about P4C in 1999 (see clip here), James left full-time teaching to focus on the development of a P4C network.
A year later, he co-founded a social enterprise project to regenerate areas of North East England characterised by under-employment, low aspirations and lack of community engagement. Using P4C as the catalyst for change, this project grew into a multi-million pound, award-winning initiative working with families, schools and local enterprise. Today, James leads his own company, Challenging Learning. This independent consultancy has 30 employees in 6 countries and works with pre-schools, schools and colleges to enhance learning through P4C, challenge, feedback, growth mindset, and dialogue.
---
Kay Williams
Kay Williams taught English and History in further education for 10 years before moving into journalism and editing. She worked on regional newspapers and edited a number of books before returning to education, teaching Literature and Creative Writing for university extra-mural departments. For some years, she managed a large programme of courses for adults with an educational charity. She also edited and produced a wide range of brochures, handbooks and publicity materials for various organisations. Kay now provides the administrative back-up for P4C.com as well as managing operations for Jason Buckley's The Philosophy Man website.
---
SAPERE: A P4C Charity
SAPERE website: https://www.sapere.org.uk
SAPERE courses: https://www.sapere.org.uk/courses.aspx
SAPERE is the Society for the Advancement of Philosophical Enquiry and Reflection in Education. It is a registered charity dedicated to promoting Philosophy for children in the UK. It manages projects and provides training courses as well as forming partnerships with Higher Education Institutions and teaching schools to enable them to offer P4C training. SAPERE was founded in 1992 after interest roused by the BBC documentary 'Socrates for 6 year olds'. The documentary showed Philosophy for Children (P4C) at work in schools in the USA where the concept was originated in the late 1960's by Professor Matthew Lipman. SAPERE has collaborated with the Education Endowment Foundation, Open Futures, Esmee Fairbairn Foundation, and the Expansive Education Network amongst others. It joined the P4C Co-operative in 2016 and is represented by Steve Bramall.